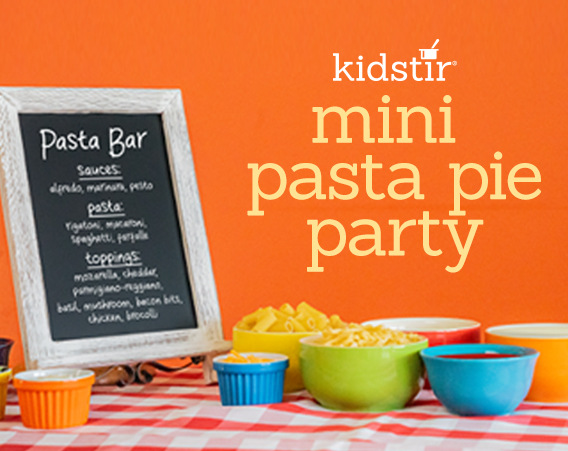 Pasta Pie Bar Directions
hands-on time:
10 minutes
start-to-eat time:
20 minutes
Isn't cheesy, baked pasta the best? Let everyone enjoy the fun of making and eating their own mini pasta pies with this fool-proof recipe for a hands-on family feast!
ingredients

• 1 pound rigatoni pasta, cooked al dente
• 3 or more different pasta sauces like marinara, alfredo and basil-peso
• 3 or more different cheeses like shredded mozzarella, shredded fontina, and ricotta
• parmesan cheese
• olive oil
step-by-step
1. Place several oven-safe mugs, tongs, and spoons on your counter or table, and preheat your oven to 400 degrees.
2. Fill a large bowl with slightly undercooked (or al dente) rigatoni noodles tossed with a little olive oil and parmesan.
3. Lay smaller bowls alongside the pasta filled with different sauces like marinara, alfredo, and basil-pesto
4. Finish the assembly-line spread with bowls of mozzarella, Parmesan, ricotta, and fontina; and fresh herbs and dried spices like basil, thyme, oregano and chili flakes.
5. Preheat your oven to 400 degrees.
6. Let everyone grab a mug, and tell them to place a spoonful of their favorite sauce at the bottom. Add two spoonfuls of cheese and mix in any fresh herbs
7. Snugly fill the base of your mug with upright pieces of rigatoni. Then add two more spoonfuls of sauce and cheese. Sprinkle with Parmesan and any dried spices.
8.

Bake for 20 minutes at 400 degrees, and remove immediately with oven mitts.
9.

Place a plate on top of each mug and flip over, working quickly so the cheese doesn't harden and stick to the bottom. Or eat straight from the mug!