Bake My Day
Bake My Day
$24.99
Turn your kitchen into an at-home bakery!
Grab your apron and turn up the oven. It's time to serve up some fresh-baked treats made in your kitchen!
In this kit, you'll find three recipes for homemade goodies. You'll also learn all about apples, play a fun foodie game, and make dough art.
For a quick and fancy dessert, make an Easy Apple Tart with your new Mini Rolling Pin. Hosting a bake sale?
Make yummy Bunny Muffins and add Bake Sale Price Tags. Then, use your Super Spatula to mix bread dough and shape it into Crescent Moons.
Now come and get 'em!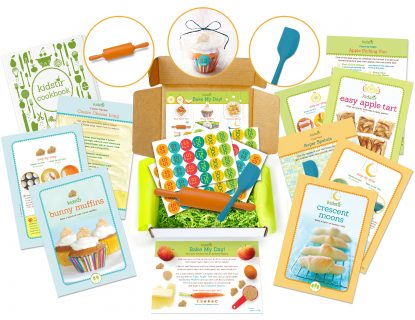 Learn more about this kit!
---
This Special Edition kit can be purchased without a subscription.
If you purchase a prepaid 12 month subscription, you'll get a BONUS Happy Cooking Cookbook Binder along with your first kit. You will also receive 2 bonus years of Family Circle, Parents or Rachael Ray Magazine. Sign up for a Happy Cooking subscription here, or continue to purchase your Special Edition kit below. Ready, set, cook!