Guidebook to Growing Up Binder
Guidebook to Growing Up Binder
$19.95
Organize your activity pages, journal prompts, challenges, and games!
Our custom Guidebook to Growing Up binders are designed to store your activity pages for years to come. This 3 ring binder is the perfect size to fit a year full of fun and educational materials. A beautifully illustrated fold out map featuring all the destinations on road to becoming a big kid is included inside. Plus, fifteen printed chapter dividers ensure your little ones can easily find their favorite topics (energy, money, tech, tools, and more) whenever they want!
Binders are durable, wipe clean, and have easy open rings. Kids can write their name on the back to personalize them. Binders also lay flat for convenient use.
Your child can build his or her very own Guidebook to Growing Up!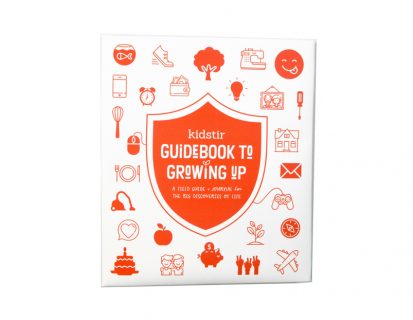 Learn more about this binder!
---
This Guidebook to Growing Up Binder can be purchased without a subscription.
If you purchase a prepaid 12 month subscription, you'll get a BONUS Guidebook to Growing Up Binder along with your first guide. You do not need to make a separate purchase through this form. If you have Special Edition guides or a binder was not added to your subscription at the time of purchase, get your guidebook binder below. Adventure on!