Taco Truck Fun
Taco Truck Fun
$24.99
Learn how to cook Mexican food at home!
Turn your kitchen into a lunch truck—and invite your friends and family to step right up and place their orders!
In this kit, you'll find out how to make three Mexican recipes. You'll also discover fun facts about avocados and peppers, learn some Español, and practice menu math.
Start by making Guac & Roll. Bake tortilla chips, flip them with your new Handy Tongs, then serve with fresh guacamole. Use your new Wavy Cutter to chop toppings for Food Truck Tacos. For dessert, cook Arroz con Leche, a rice pudding. Serve it all up in a Food-Truck-in-a-Box tray!
Order's up!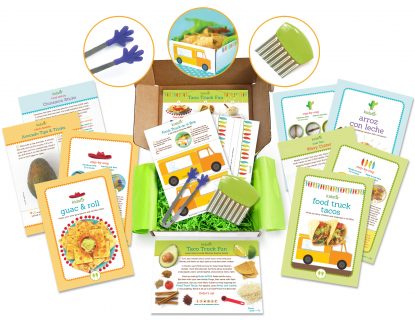 Learn more about this kit!
---
This Special Edition kit can be purchased without a subscription.
If you purchase a prepaid 12 month subscription, you'll get a BONUS Happy Cooking Cookbook Binder along with your first kit. You will also receive 2 bonus years of Family Circle, Parents or Rachael Ray Magazine. Sign up for a Happy Cooking subscription here, or continue to purchase your Special Edition kit below. Ready, set, cook!
---